We had a Cowgirl Christmas meeting with a potluck. There was variety of different dishes and desserts and it was all delicious.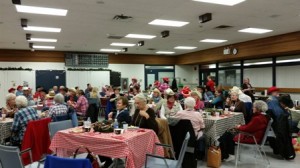 Highlights of the meeting:
-There is still room in the Spring Retreat
– More reports still to come on the Quilt Show. Once all in committee will report.
-Nominating Committee is starting to look for candidates for 2015 executive.
-Royal Columbia NIC unit is extremely appreciative for all the preemie quilts that the quild donates.
– Decision on who will get the community quilt will be made at the January meeting.  Heather will be sending out an email to the membership with information on the candidates.
-Upcoming 2015 programs:
-January  members participation – bring your first quilt and tell us a little info about it.
-February  AGM; Valentine Tea/Social – coffee, tea & dessert; Preemie contest- theme is quilts for boys. Random draw
– March   Terry Aske – famous local modern quilt artist.  Workshop Mar 7 – Maple Leaf – freezer paper piecing. Cost $50 (includes lunch, coffee, tea and snacks. Max. # 15. If interested please contact Renelle at Renelle@shaw.ca
     Hope everyone has a Very Merry Christmas, Happy Holidays and a Happy New Year.  See you all in 2015!!!!