You are currently browsing the archive for the Quilting category.
Vancouver Modern has space available in their up coming workshop with Christine Camelli –
Finding Your Flow with Free-Motion Quilting
Looking to improve your free-motion quilting? Christina Cameli might just have the answer.  "Finding Your Flow with Free Motion Quilting" is so new it's not even on her website yet! It was created as a follow up to the "Combining Designs" workshop that many of us took in 2020.
Christina is based in Portland and has been sewing since she was child. In 2003 she fell in love with quilting. She has authored five quilting books and is a quilt pattern and fabric designer.  She is also a nurse-midwife, mom and paddle boarder.  She believes that quilting is where she puts herself back together. She loves teaching, creating and sharing with others.

Date: Sunday, May 29th, 2022
Time: 10:00am-1:00pm
Location: Zoom
Price: $50
To register, email education@vancouvermodernquiltguild.ca to let the Education Committee know you want to participate.  Your space will be held once your payment is received by the Treasurer.
The Vancouver Island chapter of Surface Design Association is hosting a conference in June in Duncan, BC. Our group is having an exhibition of our work at CVAC gallery in Duncan for a month during that time. We have a few spaces left in workshops and lectures. We are excited to be having an in person reception for our exhibition on June 15 and welcome you to join us and chat with the artists. The reception is followed by the opening slide lecture that evening give by me: In Search of Wild Silk. It is a glimpse into the fascinating world of wild silk in the jungles of India. Please pass the following information on to anyone you think may be interested in joining us.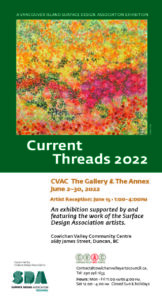 Click on the link to view information on the Pacific Northwest Quilt & Fiber Arts museum
  https://www.qfamuseum.org/exhibits.html
New publicity information has been posted. Go to the publicity page to view.
Hello TAGOR supporters…
As current and former TAGOR members, Gathering of the Guild group members, FAN members, former and future speakers and instructors, previous ZOOM participants and our families and friends, you are cordially invited to our upcoming ZOOM presentations and in-person workshop with Stacey Day.
TAGOR presents three interesting events this spring.
March 22, 2pm "Wax Print – 1 fabric, 4 continents, 200 years of history" (free)

In-person TAGOR members meeting location – St. Anne's Anglican church – @ # 1 Rd and Francis Rd, Richmond, BC
April 26, 2pm "The Art of Creating Using Stitch with Deborah Zibrik" (free)

In-person TAGOR members meeting location – St. Anne's Anglican church – @ # 1 Rd and Francis Rd, Richmond, BC
April 23, 10am – 3:30pm "Sparkle and Pop" with Stacey Day.  Learn to create a modern cathedral window style 3D block with curves out of straight edges.  ($52 non-member price)

Location – Fabric Arts Studio – 2nd floor Richmond Cultural Centre. In-person only.
See https://tagor.ca/blog/ for more information and registration.
It is important to register for all the presentations and workshop you plan to attend.  This will provide a check in list of in-person attendees, and being able to forward the ZOOM link to you, the online participants.
TAGOR members will have opportunity to attend in-person.  The event is open to all via ZOOM. 
Thank you and looking forward to seeing everyone once again at our upcoming presentations.
Registration form for the fall retreat is now posted on the Retreat page
A NOTE FROM YOUR CQA LOWER MAINLAND REPRESENTATIVE
Hello everyone,
I hope you are all as excited as I am about the upcoming Quilt Canada to be held in the Vancouver Convention Centre East June 15 – 18. After so many months of no quilt shows I think it is going to be amazing to be able to see quilts in real life. There are lots of things to look forward to – the National Juried Show, the concurrent shows, the merchant mall, the workshops and lectures. You still have time to order your Trendtex package and complete an entry – I really love the colours and patterns for this year- not sure what I will do, but one of the fabrics is saying "water" to me. The listing of workshops will be out soon – if you are an individual member of CQA, you will have a chance to register before non-members at a reduced price.
You can check everything out at https://canadianquilter.com/quilt-canada-2022/ or you can contact me directly at bclmrep@canadianquilter.com . And remember, I am available to talk to your guild about CQA and/or about Quilt Canada this year.
Janet Harper, BC Lower Mainland Representative, CQA
Brenda Miller nominated our guild in the arts catergory for the Port Moody Civic Awards and on Dec 14 it was announced that the quild was a recipient of an award.
https://www.portmoody.ca/en/city-hall/civic-awards.aspx#Blue-Mountain-Quilters-Guild—2021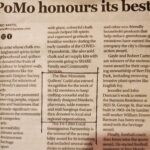 TriCity News Jan 20, 2022
A local Coquitlam resident is offering 2 industrial sewing machines free. For further information see Notice section